Mauritius Boutique Hotels
Boutique Hotels in Mauritius - Overview
Boutique hotels are small and compact hotels of 10 to 100 rooms with an intimate feel and an individual personality that offer high levels of service. The most essential features of boutique hotels are authenticity and individuality.
Most boutique hotels are generally not part of a chain, and as such it has the freedom to incorporate local concepts and unique hotel themes, while focusing on providing tailor made services to its customers.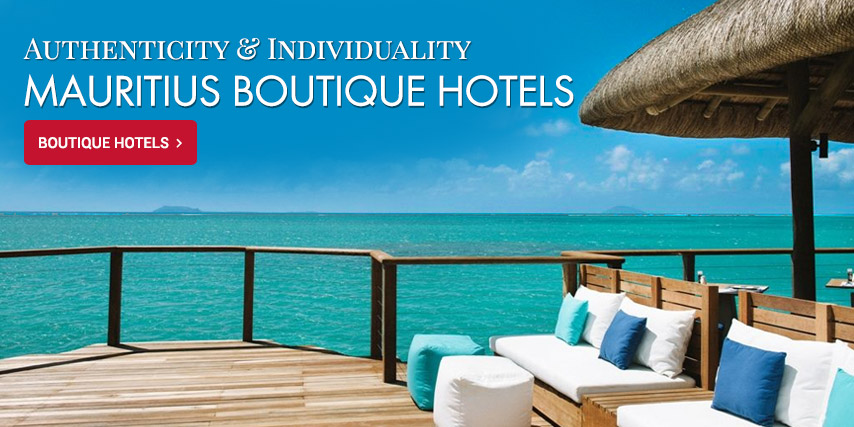 Boutique hotels offer a set of attributes that may include a personalised service, a cultural or historic aspect, a trendy design and cosy social spaces such as living areas, libraries, game spaces, with social events. These factors contribute in offering visitors a more personal and enriching experience.
Mauritian boutique hotels have unique exotic aesthetics inspired by the natural beauty and the tropical setting of the island as well as diverse gastronomic options sampling the culinary fusion traditions of the several cultures present here. The goal being to give you a taste the famed Mauritian hospitality, knowing that the hotel staff is always attentive to your needs, without ever being overbearing.
These boutique hotels are very conducive in providing a wonderful sense of being in a whole different world; for you to just be the traveller living in the moment and having memorable experiences.
Mauritius Boutique Hotels Guide
20 Degrés Sud Boutique Hotel
The 4-star boutique hotel 20 Degrés Sud Boutique Hotel is the first boutique hotel of the island, and as a true haven of serenity and privacy is often referred to as one of the best kept secrets in Mauritius. The 20 Degrés Sud Boutique Hotel consists of 36 rooms; all but four of those are "Austral Suites", each one different from the other and equipped with a small private plunge pool overlooking the sea, rather than rooms and suites.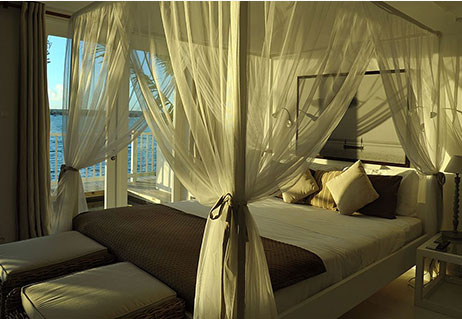 The Austral Suites are less than 2m away from the water, giving the semblance of living on water in all comfort and luxury. The signature of the 20 Degrés Sud rooms is their proximity to the sea, with a terrace that opens directly onto the ocean; a unique privilege of a splendid stay on this beautiful island.
Uncommon interior design done exclusively by the Belgian decorator, Flamant Home Interiors - a mix of antique furnishings and a modern ambience
Groups restricted to 8 guests & children under 12 years of age not allowed - to preserve the intimate nature of the boutique hotel
6 resplendent suites, with either an outdoor hot tub (Jacuzzi®) or a small private swimming pool for your own personal use
The excellent opportunity of dining aboard the oldest motorboat of the island fully restored to its former glory, the M/S Lady Lisbeth, built in 1929 (a max of 8 passengers allowed on board)
Accommodations for special occasions, like weddings or formal/informal dinners (provided that reservations are made beforehand)
Free boat shuttle service to the city centre on the hotel's beautiful traditional pirogue
---
La Palmeraie Boutique Hotel
La Palmeraie Boutique Hotel is a cosy 4-star hotel situated at Palmar, on the east coast of the island. True to the nature of boutique hotels, La Palmeraie offers tranquillity and conviviality, typical of the islander lifestyle.
The La Palmeraie Boutique Hotel has great accommodations for everyone; couples, friends and families with a total of 52 rooms including 12 interconnecting rooms for families and a honeymoon suite.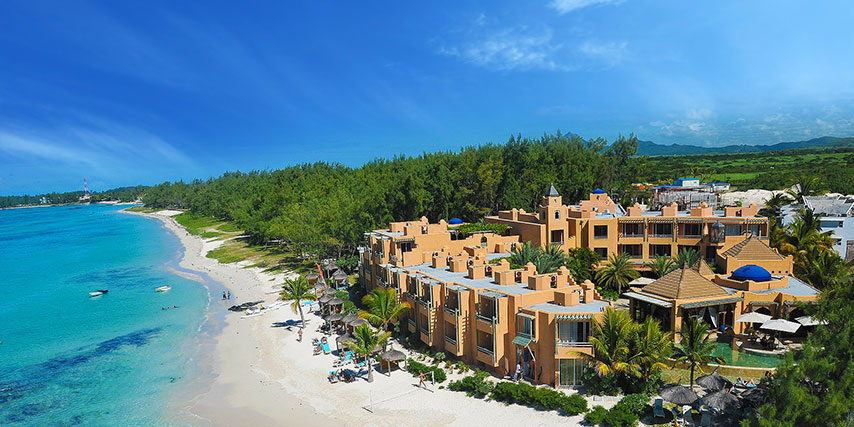 Its gourmet restaurant, Le Flamboyant, offers you a breath-taking setting at the heart of a patio between land and sea, along with not only a lunch "à la carte" option from noon to 15h00 but light meals and snacks are also available all day long around the swimming pool.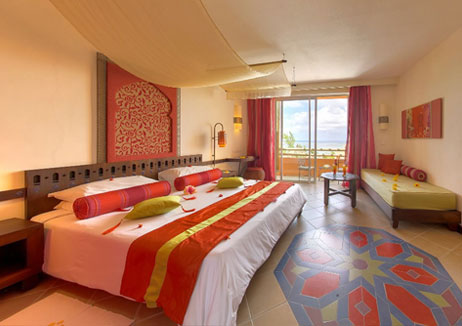 29 beach front deluxe rooms
12 interconnecting rooms available for families
2 junior beachfront suites
Kids club - "Les P'tits Dodo" - for children between the age of 3 and 10
Mogador spa - choice of traditional or modern treatments using natural products
3 restaurants - La Varangue (Mauritian cuisine), Le Cotomili (Mediterranean, french and oriental cuisine), Le Deck (cocktails and snacks)
Le Flamboyant bar - at the heart of a patio, between land and sea
1 overflowing swimming pool
Free water sport activities: kayak, windsurf, sailing dinghy, glass bottom boat, snorkelling with equipment
---
Paradise Cove Boutique Hotel
The Paradise Cove Boutique Hotel is an adult exclusive hotel, a member of Small Luxury Hotels of the WorldTM (SLH), offering couples, friends and honeymooners peaceful and relaxing holidays in very intimate surroundings, with a total of 67 accommodations.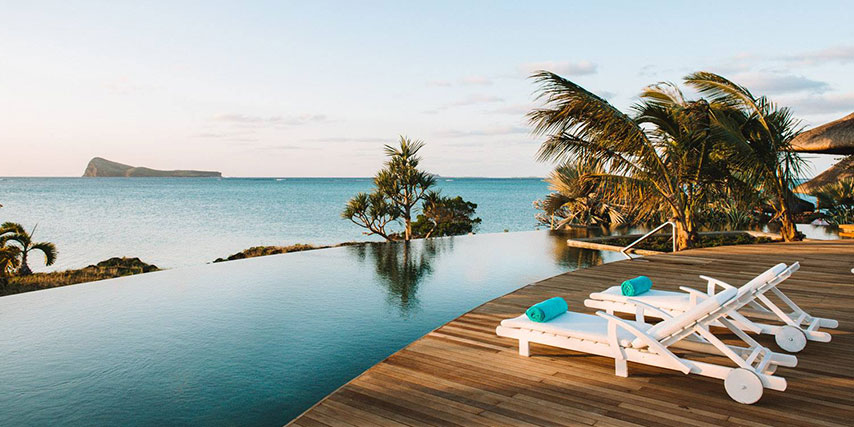 Paradise Cove Boutique Hotel is ideally situated at Anse La Raie, just ten minutes away from the lively village of Grand Bay, saving you the hassle and time to travel long distances to have access to entertainment and shopping outlets. It is the ideal place for a heavenly romantic getaway with its innovative concept of intimate havens, in the form of love nests under thatch roofs situated right on the shore of the turquoise lagoon, perfect for you to share dreamy moments with your partner in all serenity. Its magnificent infinity pool and extensive considerate services make it a cherished destination for romantics.
67 rooms and suites, available in 4 categories: Deluxe, Deluxe Premium, Club Junior Suite and Club Senior Suite. They all open up on a terrace or a balcony; perfect for when you need a breath of fresh air and take in the magnificent surrounding views.
16 love nests situated right on the shore, alongside the "Peninsula", fitted with two sunbeds, ideal for sun tanning and relaxation.
Club lounge - exclusively reserved for club junior and club senior suites guests.
Live acoustic music at sunset within a convivial atmosphere at the S.T.A.Y and BLU bars (every evening).
Moments* (their concept of helping you experience the simple wonders of life) - Candle light dinner over the cove with a seafood platter, coffee on the beach at sunrise, starwatching on the beach.
Excellent diverse gastronomical choices: seafood at The Cove, buffet or a table d'hôte cuisine at The Dining Room, Asian fusion cuisine at The XO.
Free excursions: visit of the fishermen village of Cap Malheureux, Bicycle tour (3h) - Cap Malheureux, Cemetery, Bain Boeuf or Grand Gaube beach, Sugar Cane fields.
Spa (4 single treatment rooms, 1 double treatment room, 2 hammams and 1 swimming pool).
Water activities: 1 main swimming pool, 1 new infinity swimming pool on the peninsula, water skiing, glass bottom boat, kayak, sailing dinghy (laser), snorkelling, stand up paddle, windsurfing (the Anse la Raie lagoon is the second kitesurf spot on the island).
---
The Bay Hotel
Situated on the west coast of Mauritius in the small fishing village of La Preneuse, Rivière Noire, The Bay Hotel is a delightful boutique hotel with only 16 rooms, each expressly designed to offer you a splendid vacation. The extremely helpful and dedicated staff pays special attention to the comfort and well-being of the limited number of guests. The focal point of The Bay Hotel is providing you with a highly individualised service in a convivial atmosphere with a variety of amenities like the possibility of experiencing an absolute feast for the eyes and the taste buds at the gourmet restaurant, bordered by a pool and the blue turquoise water of the La Preneuse calm sea, proposing delicious and unique culinary delights.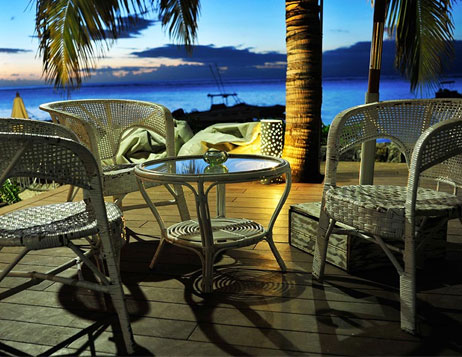 16 accommodations: 2 sea view suites, 3 superior sea view rooms, 8 standard rooms, 1 standard family room and 2 classic rooms
"Island style" yoga on the beach by professional yogi Kelly
Excellent cuisine at the elegant restaurant - open terrace with view on the ocean - live performance by musicians during dinner on Friday and Saturday evenings
Wellness at The Bay Hotel - wellbeing massages (Swedish massage, aromatherapy massage, back &feet massage, head & feet massage), special massages (Shiatsu, craniosacral therapy, individual pain relief therapy, oriental massage), Indian massages, yoga & meditation, beauty treatments
Water activities: Canyoning and abseiling, Kitesurfing, Swimming with dolphins, Big game fishing, Pirogue fishing, Sea Kart, Scuba diving, Snorkelling, Catamaran cruises
---
Le Cardinal Exclusive Resort
Located in the north west of Mauritius on the beautiful coastline of Trou Aux Biches, Le Cardinal Exclusive Resort is a charming retreat for a couple seeking a romantic holiday experience in an intimate atmosphere and luxurious surroundings. The resort provides spacious accommodation having suites ranging from 51m2 to 84m2, available in 3 categories: 10 junior, 1 duplex and 2 penthouses, each with a balcony or terrace. Guests are treated like family, the staff endeavours to make you feel as comfortable as possible and try to meet your expectations to the best of their abilities all throughout your stay - from the 24-hour desk assistance to the barman, every single member of the Cardinal team is always disposed to meet your needs.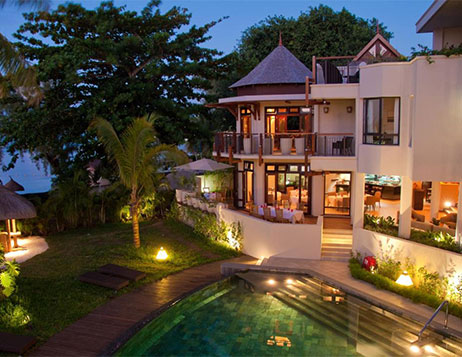 13 Sea-facing suites with a harmonious blend of subtle colours and natural materials for an elegant-looking interior and breath-taking views of the turquoise lagoon
Le Cardinal dining - A la carte breakfast, lunch and dinner. The clients' order will be cooked and served within the minute
Beach bar - light lunch and exotic cocktails during the day while lounging by the pool or on the beach
Boathouse - Free activities: Kayak, Pedalo, Glass bottom rides, Snorkelling among others. Diving at an additional cost
Entertainment: Soft music every night at the Piano bar
Shared facilities with Casuarina Resort & Spa: Gym, Tennis Court, Diving Center & Casuarina Spa
---
Tamarina Golf & Spa Boutique Hotel
The Tamarina Golf & Spa Boutique Hotel is a 4-star boutique hotel, located on the west coast of Mauritius, not far from the picturesque village of Tamarind. With an outstanding design, top chef dining and friendly high-end personal service, this formidable boutique hotel gleams proudly as a remarkable property on the island. Their ideals are aimed at providing memorable experiences starting from their sincere warm greetings to the excellent personalised service during your stay. Lose yourself in a vacation of pampering in this peaceful sanctuary. Discover unique flavours and exotic dishes in the 6 restaurants, each allowing you to sample a different cuisine in a diverse atmosphere.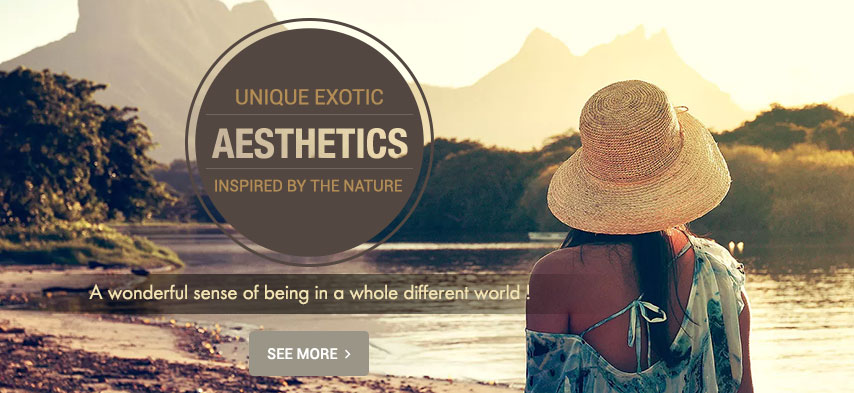 30 Deluxe rooms with garden view, 12 Deluxe rooms with sea views and 8 Deluxe beachfront rooms.
The only boutique hotel with its own golf course - 18-hole championship course. With a practice area, changing rooms with showers and lockers, a bar and restaurant, a pro shop, an academy with courses offered by a PGA professional, equipment rental and more.
Preferential access to the Casela World of Adventures leisure and theme park. The hotel provides a free shuttle service to the park twice a day.
Acacia Spa - Intraceutical oxygen infusions, face and body treatments, semi-permanent manicures and pedicures, bathing rituals and aquatic therapy, as well as yoga classes.
6 restaurants and bars - Wine gallery with grand vintages and more affordable wines from every corner of the world, including France, South Africa and Latin America.
Animation - performance of live musicians during cocktail hour.
Land activities: 2 tennis courts; fitness room / gym (as from November 2016); pétanque; yoga on the beach once a week; board games; reading corner; a weekly introductory golf class; beach games; bicycle rental (for an additional fee).
Sea activities: Surfing lessons; stand-up paddle; kayaking; kite surfing; dolphin watching; scuba diving; deep sea fishing; water skiing; glass bottom boat rides. (a surcharge applies).
---
Seapoint Boutique Hotel
The Seapoint Boutique Hotel is a luxury boutique hotel located at the northern tip of the island, at Pointe aux Canonniers, which ensures the exclusivity and the privacy of its guests. This beautifully exotic hotel has a very friendly and dedicated staff who will work around the clock to provide excellence and accommodate your every need. You will surely appreciate the serenity and intimacy of this boutique hotel as well as the friendly nature of the very professional team. Take a dip in its gorgeous infinity pool, an idyllic setting for an unparalleled experience of utmost relaxation, and enjoy the expansive views of the Indian Ocean.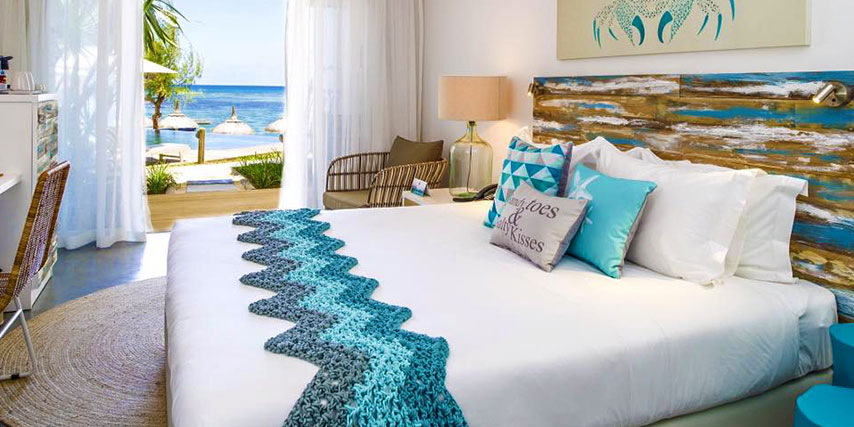 Spectacular ocean views from the bedrooms equipped with modern amenities for your maximum comfort
Coin de Mire Villa - an extraordinary sanctuary with exceptional views of the Indian Ocean
Soothing infinity pool
Excellent gastronomy and drinks at the 2 restaurants (Le Hublot and Beach restaurant) and 2 bars (Le Hublot bar and Beach bar)
Wellness Center: Thalgo La beauté marine offers a series of treatments based on panacea oil
Leisure activities: Sightseeing (Grand Bay, Grand Bassin Sacred Lake, Sept Cascades), Wildlife (La Vanille Reserve, Walking with lions, Casela bird park)
Sports and Outdoor activities: zipline, skydiving, quad biking, horseback riding, mountain biking
---
Astroea Beach Hotel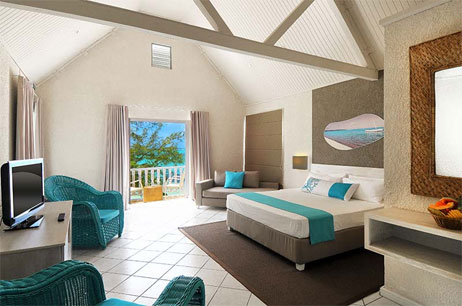 Astroea Beach is a 3-star boutique hotel located at Pointe d'Esny, near the historical village of Mahebourg, at the south east of Mauritius. In a beautiful beachfront location and a mere 15 minutes' drive away from the airport, this convivial boutique hotel overlooks a stunning stretch of white sandy beach and a glistening turquoise lagoon. The accommodation here consists of 16 comfortable and tastefully decorated rooms which open onto a terrace or a balcony with an assortment of essential amenities. The amiable staff catering to your every need is so friendly and resourceful; they will be more than happy to organise other activities in addition to those already on offer, should you request for more options.
Restaurant & Bar - Etoile de Mer (serving the best of international & local cuisines)
Ylang Spa - the ultimate relaxation space
Water sports - free non-motorized water sports like canoes, pedal boats and snorkelling equipment to discover the beautiful marine life
Additional activities are also available and can be arranged at your convenience against a nominal fee: water skiing, scuba diving (PADI and CMAS), glass bottom boat trips to Blue Bay marine park, catamaran cruises and deep sea fishing.
---
Le Sakoa Boutique Hotel
The Sakoa Hotel is an intimate, family boutique hotel, situated on the north-western side of Mauritius, alongside the magnificent shore of Trou aux Biches. This small haven of tranquillity offers only 16 spacious accommodations, perfect for a soothing vacation in a quiet and private atmosphere, including 6 standard rooms with sea views, 8 looking onto a luxuriant garden and 2 suites; 1 available for honeymooners and 1 suited for adults with 2 children. The Sakoa offers a wide range of activities to help you explore the island or the joy of nautical hobbies - whether you're by yourself or with your family and friends, experienced professionals will guide you through them and ensure you have a blast in a secure environment.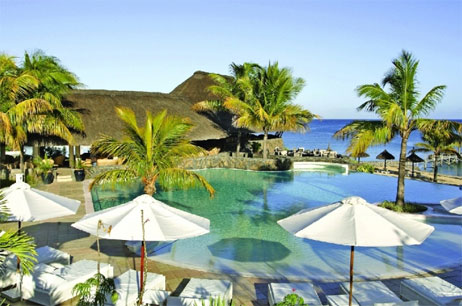 A restaurant, facing the swimming pool and the sea, where you can enjoy Mauritian delicacies
The K bar is a convivial place to gather around and relish the spectacular tropical sunsets Mauritius is famous for
14 standard rooms (6 with sea views and 8 looking out onto the garden) and 2 suites (a romantic honeymoon suite and a beach senior suite (ideal for families)
O Wellness Oasis by Seven Colours - relaxing spa treatments
Activities: snorkelling, scuba diving, kite surf, catamaran cruise, glass bottom boat, pedalo, kayak, wakeboard, parasailing, jet ski, submarine
---
Sensimar Lagoon Mauritius (Blumarine Attitude)
Sensimar Lagoon Mauritius, consists of a wing designed to serve as a boutique hotel exclusively reserved for adults, while still allowing the guests to enjoy the amenities and service of the hotel as a whole. It offers 41 accommodations complemented by a friendly professional service showcasing the Mauritian traditional authenticity and warmth. You will undoubtedly be charmed by the serenity of this privileged spot, the intimate atmosphere and the always helpful personnel. Be sure to check out the hotel's interesting offer of visiting the Nauticaz; an educational and interactive centre that gives you the opportunity of discovering the treasures of the Mauritian lagoon and also allows you to contributing in their protection.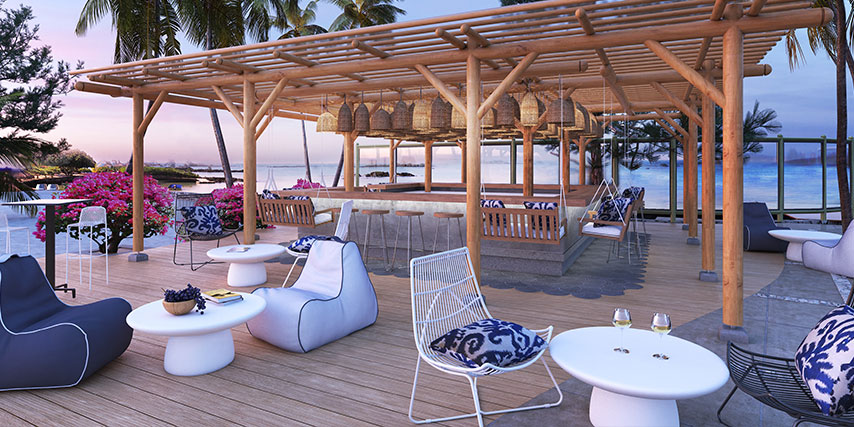 An à la carte restaurant, a bar
2 massage kiosks facing the lagoon
2 swimming pools including the infinity one
Free land activities: 2 floodlit tennis courts, table tennis, petanque, beach volley, 1 fitness centre, basket-ball, entertainment program
Free water activities - glass bottom boat, kayak, pedal boat, snorkelling, sailing with laser boat
Spa Attitude - 2 sea facing massage kiosks, 1 affusion shower for hydro massage and body treatment, and 1 hammam