Family Hotels in Mauritius
Family Friendly Hotels in Mauritius
When it comes to plan a family vacation you can get pretty stressed out looking for the ideal hotel to make the most of your time. Bonding with your family is important and there is no better way than relaxing and having great fun time in a hotel on a tropical island where tiny tots to Mom and Dad are equally entertained.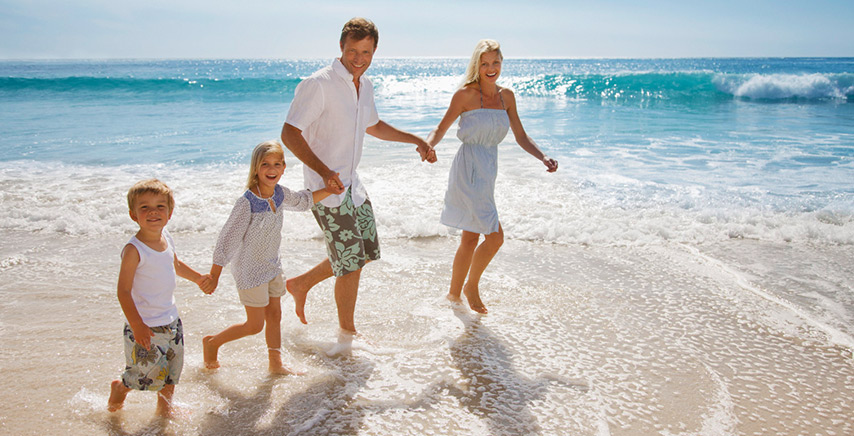 Mauritius is in itself a prime destination where you can enjoy the all-year-round summer weather, exotic gardens with colourful flowers, beaches fringed with palm trees, azure lagoons, and world top hospitality.
Many hotels on the island are going to great lengths to attract families dreaming of carefree vacations. We have handpicked a list of the most appealing family hotels that take into consideration the mere details that may make a big difference for those with children. Whether your frazzled teenagers are in need of sunshine or your fussy younger kids need to decompress, these chosen hotels in Mauritius are as suited to children as they are to parents.
Recommended Family Hotels in Mauritius
Four Seasons Resort Mauritius At Anahita - 5*
The family friendly luxurious Four Season Resort Mauritius is one the top classy holiday destinations located in the eastern coast of Mauritius. Let your kids cherish the exhilarating environment with plenty of creative things to do. Besides, the top notch setting, Four Season Resort Mauritius is set in a tropical location with top services.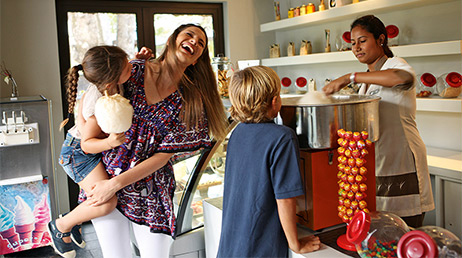 Children and teens are pampered with a range of facilities which allow them to spend some quality time with their family on vacation. Here at the resort children's amenities like beach and pool toys or planning the perfect itinerary for a family reunion are all taken care.
Additionally, the resort offers children a magical world of adventure with the complimentary 'Kids For All Seasons' programme, where children aged between 4 to 9 take advantage of the Hobbit Village Kids' Club. Facilities include: swimming/paddling pool, amphitheatre, bakery, quiet room, playroom and sandpit, all supervised by friendly and dedicated Kids' Club staff.
The Hobbit Village design being brought to life by pointed thatched roofs, 'Hobbit height' chairs and tables, and endless choices of games and toys. This is a little paradise playground located in the heart of the Resort's tropical environment.
Children aged 10 and above, Karokan is a relaxing hangout away from the family, and includes its own disco. Karokan is a place where teen can relax with their own age group, and indulge in cool activities like table tennis, home cinema, table football, and latest computer games.
Adults can enjoy complimentary golf and daily beginner's golfing initiation with a pro at the renowned Ernie Els-Designed championship golf course consisting of 18 holes. Also, the award winning spa offers a relaxing moment in a tranquil environment.
Carefully blending the African roots of Mauritius with the learned traditions of Asia, the Spa fuses rich cultural elements with modern-day techniques, to ensure a holistic wellbeing experience of the physical, emotional and spiritual bodies.
Hotel Key Highlights:
136 Villas and Residences
4 Pools
2 Tennis Courts
Ernie Els-Designed Golf Course
1 Fitness Centre
12 Signature Treatment Rooms
4 Restaurants
1 Bar Lounge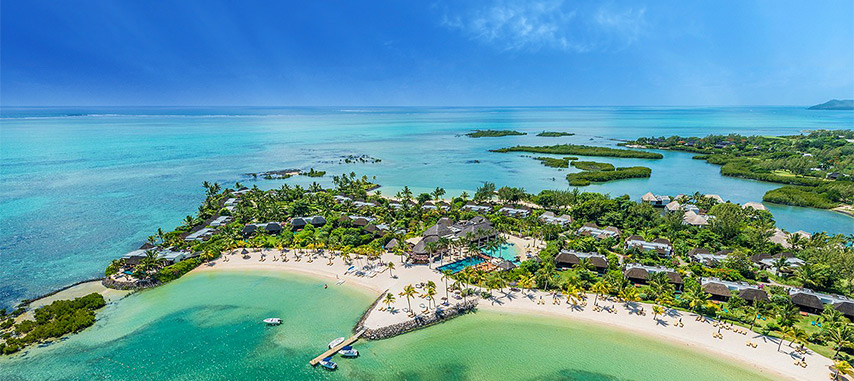 Additionally:
Cribs, infant toiletries, pushchairs, playpens, high chairs and more are all available at no extra charge;
Fun and educational experiences include line fishing, crab hunting, mini-tennis and mini golf, local crafts and tropical treasure hunts. Children can also make their own dodo cookies in their private bakery;
Babysitters are available with a few hours notice and an hourly fee;
Four Seasons Resort Mauritius at Anahita makes no additional charge for children up to 12 years old and under occupying the same guest room with parents or guardians (space permitting); a charge for breakfast and dinner applies. Adult room rates apply for guests aged 13 years and over
---
Long Beach Golf & Spa Resort - 5*
Stretched over 1.3 km of white sandy beach of Belle Mare, the Long Beach Golf & Spa Resort is a chic and modern 5-star family resort located at the eastern coast of Mauritius. A Sun Resort property, this luxurious resort opened its door in 2011 offering elegant and affable holiday resort for high spirited families with children. Ideal for a family vacation, the luxurious Long Beach Golf & Spa Resort offers your family with great facilities no matter what's your child's age; everyone is well treated and pampered during their stay.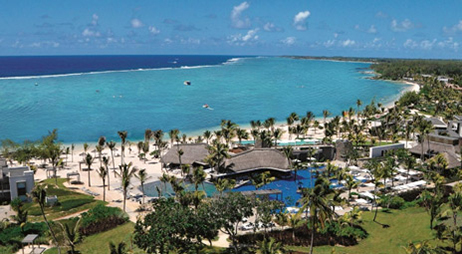 Parents can rest assured at the hotel while leaving their children at the creative and innovative Angels Kids Club which caters for children between the age of 2 and 11 years. Besides the elegant settings, children's recreational activities, meal, and security are taken care. There is a daily fun activity programme especially designed for kids.
Besides, Angels Kids Club has a large area in the Sports Centre dedicated to kids where age-appropriate equipment and educational activities are on offer. Children can swim in the pool, play tennis, try winding surfing, taking swimming lessons, go on nature excursions and much more.
Likewise, the Waves is dedicated to teens from 12 to 17 years old, and is situated in the sports centre. A special programme offers sporting activities, all kinds of entertainment and "adventure" trips and excursions. Teens will have barbecues around a camp fire or even pizza evenings at the Italian restaurant. Additionally, the club has its own disco with its very own DJ, a cyber café with video games, table football, pool and table tennis tables.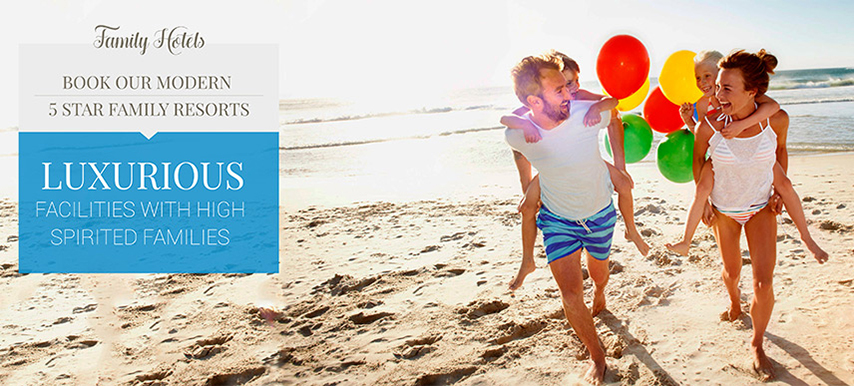 Adults are not left behind especially with an array of facilities and entertainments, including: the four floodlit tennis courts, badminton courts, a petanque court, a multi-sports pitch, a mini football pitch, a jogging track, cycle track, a ground for outdoor activities and a climbing wall. With a choice of 5 restaurants, and an extensive range of activities including free green fees at the Ile aux Cerfs Golf Club, your family holiday at this luxurious resort remains exceptional.
Hotel Key Highlights:
255 Rooms facing sea
12 single & Double treatment rooms
3 Swimming Pools
5 Restaurants
2 Bars
Golf Course
Kid's and Teen's Club
Additionally:
Family offer benefits: Free meals, and stay for children when opting for family package plus they receive free access to the kids and the exclusive teens club;
Special kids menu or dishes available on request;
A fully-equipped Fitness Centre and Sea Spa, an original concept built around French-based marine cosmetology and thalassotherapy;
Easy access to the iconic island of Ile aux Cerfs off the east coast of Mauritius and to the Ile aux Cerfs Golf Club: golfers receive free green fees and complimentary bus shuttle and taxi boat
---
The Oberoi Mauritius - 5*
The internationally known Oberoi Mauritius resort combines abundant natural beauty with refined luxury. The Oberoi Mauritius lies along the Turtle Bay on the island's curvaceous north-west coast in over 20 acres of beautiful, subtropical gardens and with an impressive 600 metres of beachfront.
Ideal for family with children, the resort excels in hospitality and services to make sure that guests experience comfortable and stress free vacation. Parents can count on the children's club which is accessible for children between 4 to 12 years old. Parents will be delighted by the caring nature of the staffs especially towards children.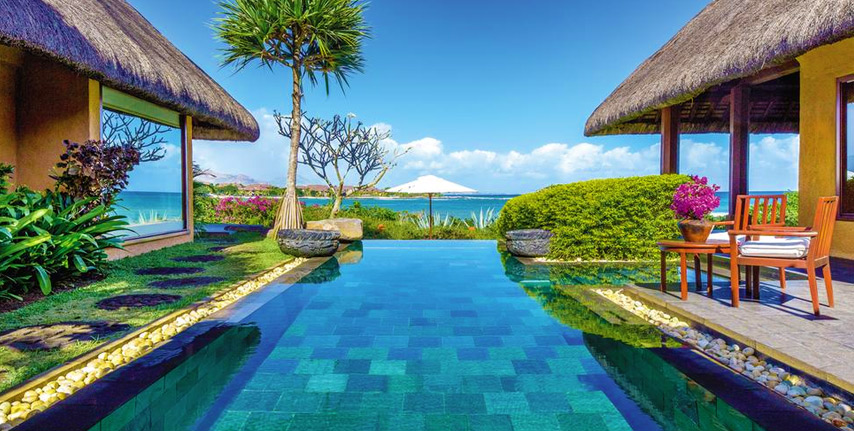 The club features a soft play area, fenced play area outside and a daily programme of activities. Each evening there's a film and some games and even a Wii competition. Also, there is a small shallow pool, but no lifeguard.
Children under 4 years can join the club only if accompanied by an adult. Babysitting facilities are also available at an additional charge. Rest assured the restaurants at the resort offer kid's menu as well.
Secluded by indigenous trees and framed by a lush tropical garden, the spa at The Oberoi, Mauritius is a blissful oasis for adults. There is a range of international therapies which harmonise modern sciences and ancient philosophies. Guests can also experience hatha yoga, t'ai chi and meditation.
Hotel Key Highlights:
71 Rooms & Villas
24 Hour Butler Service (Villas)
2 Infinity Pools
Fitness Centre
2 Restaurants
1 Bar
Wine Cellar
Additionally:
The restaurant has a special kids menu;
Staff from the kids club can babysit on request, but must be booked 24 hours in advance;
Staff from the kids club can babysit on request, but must be booked 24 hours in advance;
The free kids club for 4-12 year olds holds sessions from 9am - 4pm daily;
An extra bed or baby cot can be added to all pavilions and villas.
---
One & Only - Le Saint Geran Hotel - 5*
Renowned as a favourite destination for family vacation, the luxurious One & Only Le Saint Geran is located in the incredible peninsula of Belle Mare in the heart of a 60-acre tropical garden, along a beautiful sandy beach.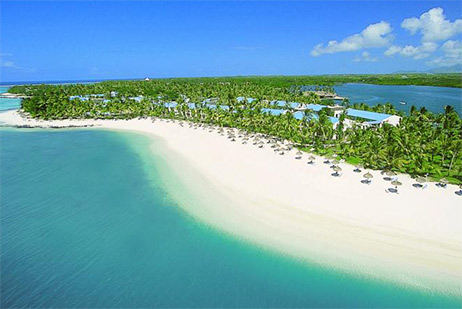 The hotel is a perfect retreat for family seeking luxury accommodation, and amenities in an elegant setting. The peninsula is situated near the site of Le Saint Géran shipwreck which was immortalised in Bernadin de Saint-Pierre's novel Paul et Virginie.
Under the supervised care of expert counsellors, the complimentary kid's club offers a daily programme of age-appropriate themed activities with a focus on discovery, education, local culture, nature, sports, art and crafts. The club is designed under the Saint Geran Shipwreck theme, where children can spot sails, wood plank walls, barrels, and centre post which stimulate ship element.
Kids can enjoy separate areas for games, arts, and crafts. There is a large exterior playground with a swimming pool just for kids and a private dining area.
During the summer months, kids may join the resident gardeners together with their KidsOnly counsellor to enjoy an afternoon of gardening at the resort's kidsOnly herb garden.
Apart from these wonderful kids' facilities, the hotel features its luxurious and spacious accommodation; stunning Gary Player 9-hole golf course where you can enjoy complimentary green fees; and there is the revitalising fully-equipped spa.
Hotel Key Highlights:
162 Suites
1 Villa
3 Restaurants
3 Bars
1 Lounge
8 Treatment Rooms
Additionally:
For babies and toddlers younger than 3 years old, the resort offers professional babysitting services at a nominal fee (24 hours notice required).
Kid's Club Facilities: A computer room featuring Apple iMacs, printing facilities and wifi acess; latest video games; colourful toddler room; and sand play area.
Kid's Club opens daily: 10.00 am to 10.00 pm
---
Heritage Le Telfair Golf & Spa Resort - 5*
Perched on a beach, with the surrounding lush green garden, Heritage Le Telfair Golf and Spa is situated in the heart of Domaine de Bel Ombre.
Member of the 'Small Luxury Hotels of the World', Heritage Le Telfair boosts a stylish elegant colonial architecture exuding the ambiance of grand tradition properties for a stay tailored around fine dining, personalised service, and exclusive spa facilities.
At the resort families can enjoy spacious and stylish accommodation with unparalleled sea views and direct beach access. The elegant setting is adorned by colonial inspired design. Parents can enjoy golf course designed by Peter Matkovich and Hayes firm; a range of land and water activities, not to forget to visit the spa while the caring staff can take good care of the children.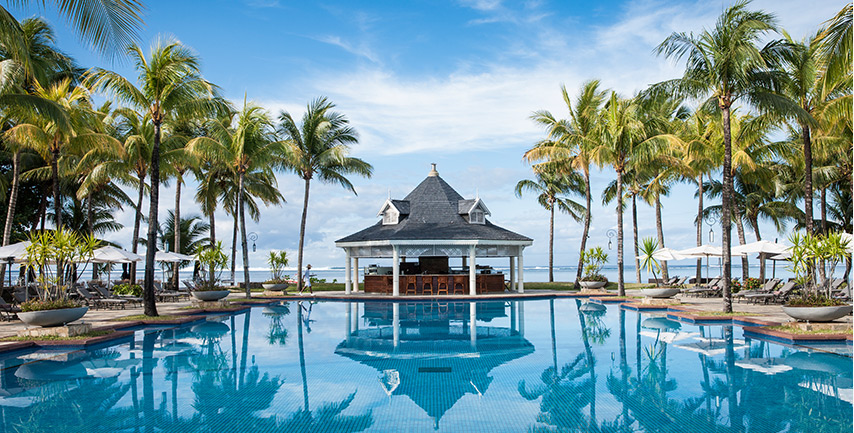 The resort proposes an array of amenities and facilities for children with the aim of making holidays for families as enjoyable as possible. With the baby Timmomo, baby age under 2 are taken care by the highly-trained nurses. There is also the kid's club catering for children between the ages of 2 to 11 years old.
Teens from 12-17 years old are invited to join in various activities throughout the resort. Activities include: musical instruments, roller blades, ping pong, mountain bike tours, tennis, football, pool table, and bocci ball game.
Hotel Key Highlights:
158 Sea or River View Rooms
20 Villas
2 Swimming Pool
4 Restaurants
1 Bar
C Beach Club
Golf Course
Additionally:
6 highly trained nurses are on hand to care for your child seven days a week from 8.30 am to 4 pm.
Unique concierge service to provide you with necessities: such as milk, wipes, and nappies.
Baby amenities are available upon request, with complimentary babysitting service for toddlers up to the age of 2 (between 8.00 am to 4 pm).
Kid's Club facilities: Fitness classes; sport classes; initiation to golf; dance classes; mini culinary workshop; mini golf; evening programmes.
---
Royal Palm Hotel (beachcomber) - 5*
The Royal Palm is a luxurious 5-star hotel par excellence situated at the vibrating tourist village in Grand Bay. This fine hotel promises you a tranquil tropical haven and a warm Mauritian hospitality for an amazing vacation with your family. At Royal Palm, both parents and children are treated like royalty from start to finish. The hotel is known as the most prestigious in Mauritius, basically one of the beachcomber group hotels. As such, it goes to great lengths to offer guests a superb selection of facilities and programmes for all ages.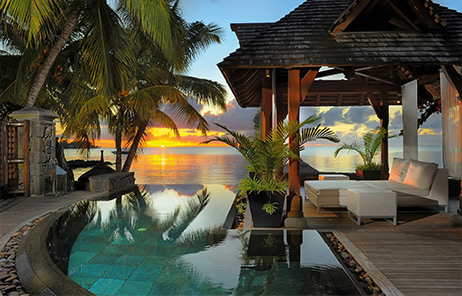 Royal Palm's recent upgrade involved refurbishing the common areas and suites to create the ultimate luxury experience. All was done, however to preserve the hotel's unique atmosphere, natural charm and timeless elegance.
A luxury family holiday at Royal Palm provides plenty of opportunities for parents and children to reconnect. They can enjoy each other's company in stunning surroundings and neither have to compromise on engaging in the many things they love to do. Children can share a suite with their parents or, if they are old enough, have a separate suite all to themselves.
They can spend time at the kid's club which is equipped with a private pool. Here, children of all ages can participate in creative and fun activities.
The professional staffs are highly trained and help children to integrate. The children programme is famous for its originality and even includes cooking classes with a real chef! Royal Palm is also known for its award-winning cuisine. Three restaurants, presided over by French Chef Michel de Matteis, who obtained the tile of "Best Craftsman of France", invites you to a tantalizing culinary experience.
You can choose from the casual elegance of Le Bar Plage, the spacious terrace of La Goélette or the intimate setting of the new Italian restaurant - La Brezza, any choice you make will be just perfect.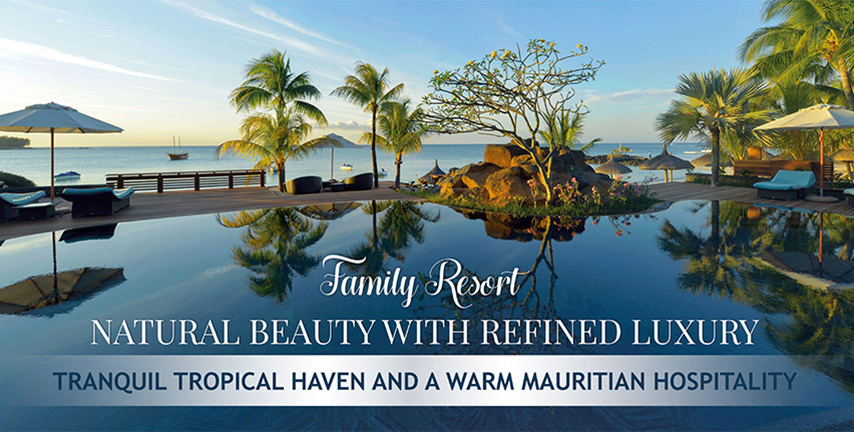 Hotel Key Highlights:
69 luxurious Suites facing sea
1 Spectacular Royal Suite with Private Pool
18 Massage & Treatment Rooms
3 Heated Pools
3 Restaurants
1 Bar
3 Tennis Courts
Additionally:
The kid's Club features a free mini-club reserved for kids aged 3 to 12, where a team of professionals keeps the little ones entertained from morning to night
Doctor on request within immediate proximity
Baby-sitters are available - 24 hours advanced notice required
Club facilities include: toilets, playground, indoor games, TV, DVD/CD player, personalized welcome, gift on arrival, organization of birthday parties
---
La Pirogue Resort & Spa - 4*
With its warm atmosphere, wonderful beach, exquisite restaurants, lively bars, high-end Aura Spa and the extensive recreational and sporting activities, this mythical La Pirogue Resort & Spa promises guests a memorable family holiday at Flic en Flac.
The four-star family favourite La Pirogue is a member of the Sun Resort group, provides you comfortable Mauritian cottages which nestled in the heart of the vast coconut plantation bordering the beach, ideal for a tropical holiday destination.
Facilities such as the large pool with water slide, cheery kids' club with everything from mini-golf to pearl diving, and the run of the colonial-style five-star Sugar Beach next door means there is plenty to do on site.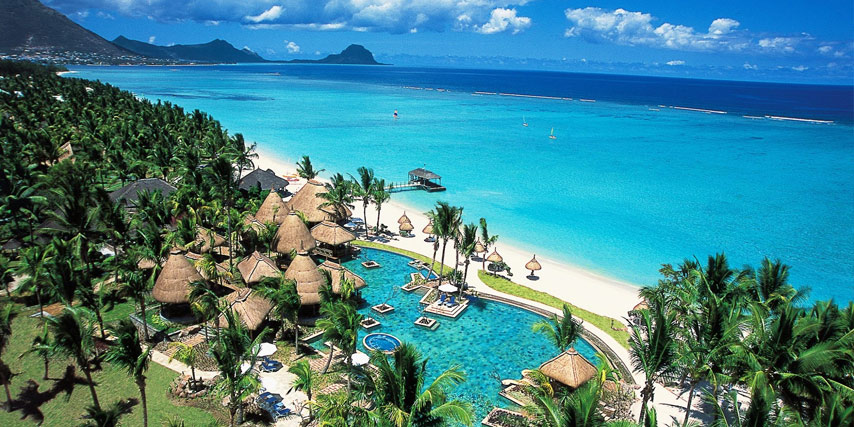 The Sun kid's Club offers activities and programmes to suit all ages and interests. Children from 2-11 are welcomed at the club by qualified team in a fun and safe framework. Activities are abundant and meals are especially prepared for them. Teenagers between the age of 12 and 17 can gather to share sports activities, and take part in trips, excursions, and parties organized by experienced staffs.
Hotel Key Highlights:
246 Charming Rooms
2 Senior Suite Pavilions
4 Restaurants
3 Bars
Single & Couple Treatment Rooms
1 Main swimming pool
Fitness Centre
Additionally:
Free accommodation and meals to up to 1 child under 12 years sharing their parents' standard room and up to 2 children sharing a superior room with their parents as per meal plan booked.
Free access to the kids and the exclusive teen's club.
Special kids menu or dishes available on request.
Exclusive activities at the Sun Kids and Teens Club for a fee.
Babysitting services and prams are available for a fee.
---
Constance Belle Mare Plage - 5*
Featured among one of the top luxury brands in the world, the Constance Belle Mare Plage resort is an elegant property located in the eastern coast of Mauritius amidst a 15 hectare of tropical lush garden. It was rewarded as the best Luxury Golf Resort in the region at the World Luxury Awards 2016 held in Doha. Inspired by the unique beauty of the East Coast; space and style have been combined to create comfort, to radiate brightness and to breathe the freshness of the Indian Ocean.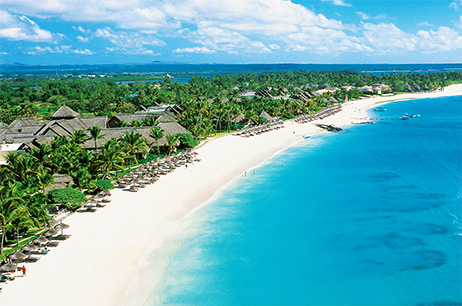 The newly refurbished, Belle Mare Plage offers effortless luxury where you can combine classic beach holiday fun of playing on the beach or by the pool with a few rounds of golf on the championship golf course or some relaxing moments at the spa.
Fronted by the long sandy beach of Belle Mare and protected by the crystal clear lagoon this luxurious resort is beautifully balanced with tropical environment and Constance Chic.
When staying at the Constance Belle Mare Plage you are sure to enjoy high-end accommodation which ranges from adjoining rooms, flexible layouts and butler serviced villas, meaning there's something for families of all shapes and sizes with complimentary kids' clubs.
Kids can have some fun moments with children of their same age at the Constance Kids Club which caters for kid aged between 4-11 years old. Parents can rely on the caring hands of the fully trained and enthusiastic coordinators to lead trips of island exploration, local crafts courses, culinary activities and scavenger hunts, to name a few. Discovery will be a key part of each daily theme. Besides the great climate, Mauritius offers you and your family a plethora of fun and adventure activities with a rich cultural heritage. The island makes the ideal luxury family holiday destination.
You are just spoilt with options where and what to dine with the varying number of à la carte menus and themed buffet restaurants. The hotel put maximum emphasis on providing top quality food along with large selection of drinks, wines and cocktails available at its restaurants and bars.
Hotel Key Highlights:
256 Rooms & Suites & Villas
37 Villas with Private Pool
2 18-hole Championship Golf Courses
4 Swimming Pools with sun loungers and parasols
7 Restaurants
6 Bars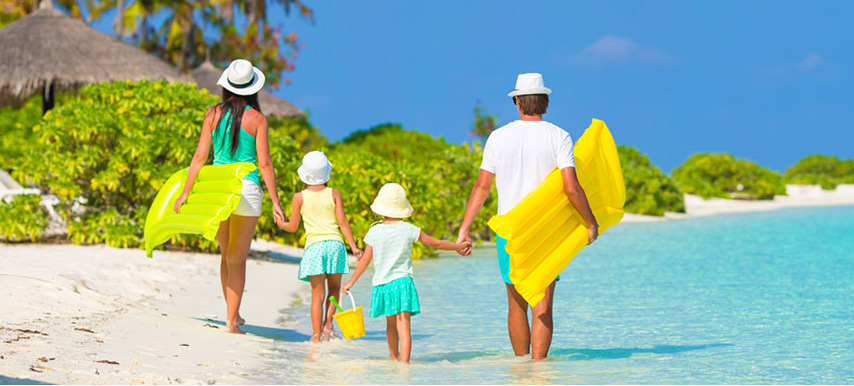 Additionally:
Enjoy green fees free of charge during your stay;
Registration at Constance Kids Club at any time during your stay to ensure that kids are ready to participate and play;
Facilities at the Kids Club: Kids swimming pool, tag games, open play areas to show off talents, play interactive games, show movies and create a kid's circus, computer stations for gaming, and internet access;
Cultural experience at the kids club: Arts & crafts with local and traditional crafts;
Kids Programme entails: Day and evening themed programmes e.g to create pizzas, make ice cream and enjoy some smoothie sweets and treats;
Private babysitter service available upon request and chargeable.
---
Heritage Awali Golf & Spa Resort - 5*
Conveniently located on the 2500-hectares at 'Le Domaine de Bel Ombre' between the enticing beach and lush green hills, Awali Heritage Golf & Spa Resort is the ideal place to seek refuge for a luxurious experience of pure relaxation in the midst of nature with the perfect combination of the bewitching African heritage. This all-inclusive resort is ideal for families looking for a fun packed holiday for high spirited children and teens. The Timomo kids club welcomes children from 3 to 11 years old.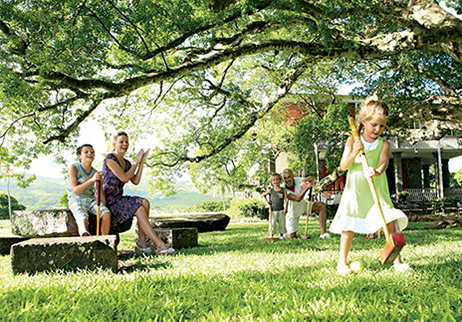 The club provides: fitness, sports classes with golf and tennis initiation, mini culinary workshop, picnic, games, sega classes, birthday parties, outdoor jungle toboggan, crab hunting, star gazing, camping and many more. The resort also caters for teens from 12 to 17 years old with fun and adventurous teenagers programme including: golf initiation, discovery of local musical instruments, karaoke, horse riding, pool table, sega parties, tennis and beach volley tournaments.
Adults can relax in the Seven Colours Spa, including a wide offer of massages and treatments. The Awali also offers its clients access to the Frédérica Nature Reserve, 18-hole golf course, C beach club, and other recreational activities such as wind surfing, snorkelling, private beach, table tennis, archery, and giant chess.
You can experience this authentic luxury hotel which combines elegance with the magic of African cultures while offering high-end accommodation which comes with Deluxe Rooms, Suites and Villa arranged in a village amidst lush greenery. They comprise a long list of amenities such as: air conditioning, electronic safe, hair dryer, mini bar, free wifi, bathroom with separate bathtub and shower.
Take the pleasure of the complimentary breakfast which is served every day. Guests can enjoy the 5 hotel restaurants, including The Seven Colours Energy Cuisine, with a spiritual concept. Le Château de Bel Ombre is located in the 19th century manor house and has a typical Mauritian menu.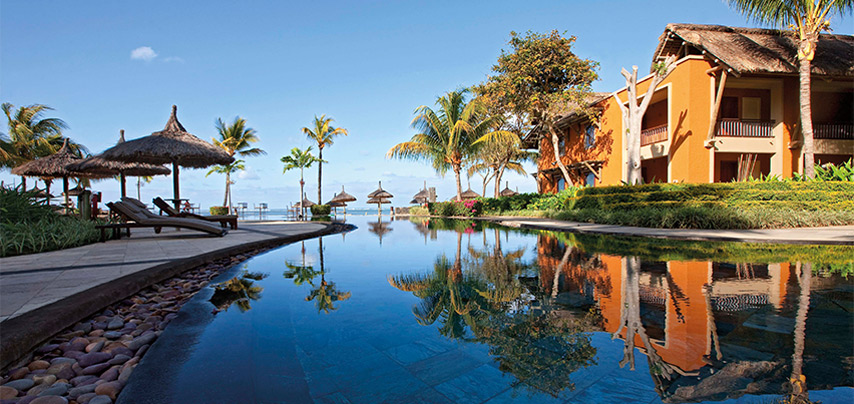 Hotel Key Highlights:
160 Spacious rooms & suites
1 private beachfront villa
3,000m2 Seven Colours Spa Village
Free Baby. Kids, teen Clubs
5 Restaurants
3 Swimming Pools
Additionally:
Best All Inclusive 5* hotel in Mauritius including unlimited French Champagne and imported alcoholic brands;
1 complimentary spa treatment per stay at a 3000m2 Spa Village;
Only Footgolf course on the island;
Free access to the best championship golf course - Heritage Golf Club;
Privileged access to the facilities of the Domaine de Bel Ombre: Frederica Nature Reserve; C Beach Club; Chateau de Bel Ombre;
Great for families - complimentary baby & kids club & teens programme;
Free baby club dedicated to babies from 0 to 35 months old;
6 baby nurses trained in first aid and childcare.
---
Zilwa Attitute - 4*
Find the contemporary and rustic Zilwa Attitude overlooking the five incredible islets on the northern coast of Mauritius. One of the members of the renowned Attitude group, this leisure 4-star hotel is designed in a very exceptional Mauritian concept, offering an interesting experience of authentic island living, for those looking for emotions, discoveries and relaxation.
Zilwa which means "islander" in Creole, invites families to enjoy the Mauritian life by going for a sunrise boat trip with a local fisherman, take Creole lessons under the palms and enjoy Mauritian street food, as one of six dining experiences.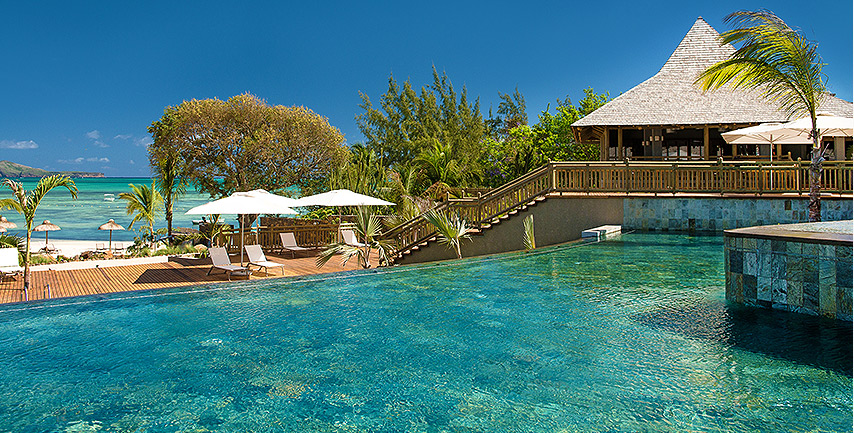 Family rooms, some with en suite child's bedroom have wax-polished floors, rough white walls and driftwood furniture and a splash of yellow from the Mauritian flag. The architecture of the hotel is uniquely designed to match the needs and expectations of each guest. The lively colours, the rattan furniture, the locally hand-woven coconut fibre carpets, and the paintings and writings of iconic artist Malcolm de Chazal on the walls give a unique touch to Zilwa Attitude.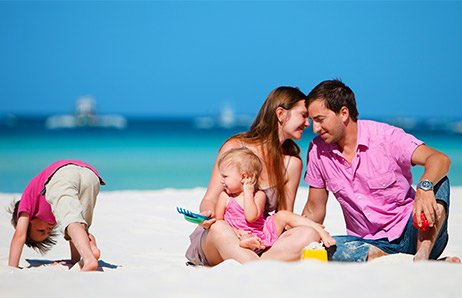 The kids' club offers a thrilling treasure hunt by raft to a private island, and family-friendly beaches and excursions galore, including trips to L'Aventure du Sucre interactive museum and the Mauritius Aquarium which lies nearby.
The island's cultural diversity is celebrated in the five theme restaurants with Creole names like 'Karay' and 'Lor Disab', where you can sample a blend of exotic flavours of the fusion cuisine, a culinary know-how from the cultural diversity of the island.
This is a unique opportunity to live the 'Zilwa' (islander) culture through cuisine, music, and art of living by the sea.
Boasting a variety of water sports activities, the resort offers kayaking, wind surfing and fishing. It also has a kid's club and tennis court.
Guests can unwind at the spa which has a selection of massages and beauty treatments at an additional fee.
Hotel Key Highlights:
214 Rooms
43 pairs of inter-leading rooms
4 Swimming Pools
10 massage rooms
6 restaurants
2 bars
Additionally:
Mini club Ayo le Dodo free of charge for children from 3 to 12 years old;
Children can take their meals at the restaurant with one of the mini club Family Members;
Day and evening baby-sitting service upon request, at extra cost
---
Sugar Beach Golf & Spa Resort - 5*
Member of the world renowned sun resort groups, the Sugar Beach Golf & Spa Resort is located on the leeward west coast of Mauritius featuring luxury accommodation and a splendid Spa. A contemporary plantation-style property spread over more than 12 hectares of tastefully landscaped tropical gardens. This luxurious holiday resort is suitable for families with its many facilities such as the Sun Kids Club which is one of the biggest kids club on the island for kids between 2 to 11 years old featuring its own buffet and swimming pool.
The club is built in the form of a gingerbread house from Andersen's fairy tale "Hansel and Grettel". The club offers sports, educational and entertainment program developed in accordance to children's age. For the kids: tennis, golf, and windsurfing, learning of sailing techniques, excursions and environment protection activities. At night special entertainment program is organized as well as theme dinner with adapted children's menus.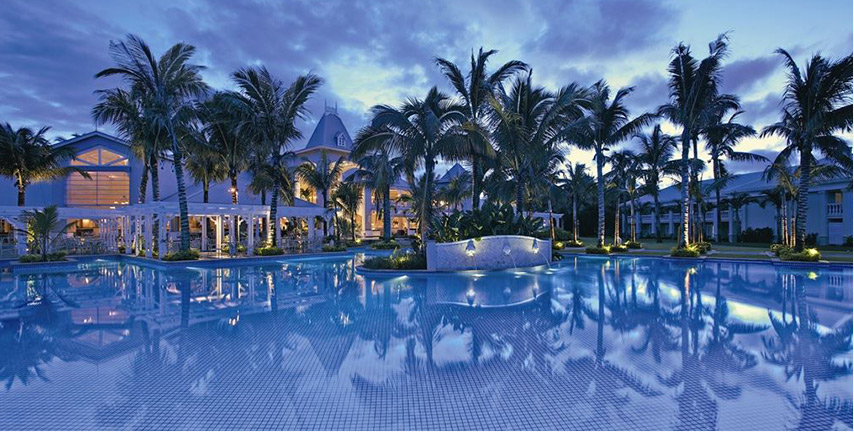 For teen from 12 to 17 years the Sungeneration club offers sports activities, entertainment program, excursions, night club and theme parties, barbecues on the beach. The Sports Bar is turned into night club with professional DJ - a cool place on the island for teen generation. For parents who enjoy golf, the resort will take care of reserving green fees and daily transfer to the Tamarina Golf Course-located in an exotic savannah setting. In addition, the 18-hole international championship golf course on Île aux Cerfs designed by Bernhard Langer is also accessible to Sugar Beach guests.
There are also a wide range of water sports with additional fee including scuba diving (PADI open water courses available), waterskiing, big game fishing, parasailing and full day catamaran cruises for guests. Other leisure activities can be enjoyed at the nearby La Pirogue hotel which is also owned by the group. For a rejuvenating experience there is the award winning Aura Spa with its own authentic hammam, offering a variety of beauty, wellness and spa treatments.
Hotel Key Highlights:
258 rooms and villa suites
5 Restaurants
3 Bars
Beach Service
24 hours in room dinning
2 Swimming Pools
Additionally:
Sugar Beach clients have privileged access to and enjoy a preferential tariff for the 18-hole, par 72 championship Touessrok Golf Course, designed by German golfer Bernhard Langer.
Sungeneration offers free membership for 12-17 year olds who can enjoy a special programme of sports and recreation as well as adventure outings and excursions.
Family offer benefits: Free accommodation and meals to up to 2 children under 12 years sharing their parents room (2 Adults) as per meal plan booked; Free access to the kids and the exclusive teens club.
Babysitting services and prams are available for a fee.
---
Intercontinental Mauritius Resort Balaclava Fort - 5*
Stretched on the northern coast of Mauritius, the International Mauritius Resort Balaclava Fort is nestled in a secluded place within the boundaries of the exclusive Balaclava Bay. Overlooking the Indian Ocean, InterContinental Mauritius Resort Balaclava Fort features a spa and 2 swimming pools. Guests can enjoy a variety of cuisine at one of the 5 restaurants, such as Mediterranean, Oriental, Indian and European. Snacks and drinks are on offer at 3 bars, one of which is by the pool.
The 210-room Mauritius hotel resort was designed to blend modern convenience with traditional Mauritius flavour. Luxury at its best, families will definitely settle comfortably in the spacious family rooms which feature a main bedroom with a king bed and a second bedroom with two single beds, providing privacy and peace for all members of the family. The Rooms feature connecting doors, allowing guests to enjoy an intimate family ambience or a little privacy when desired.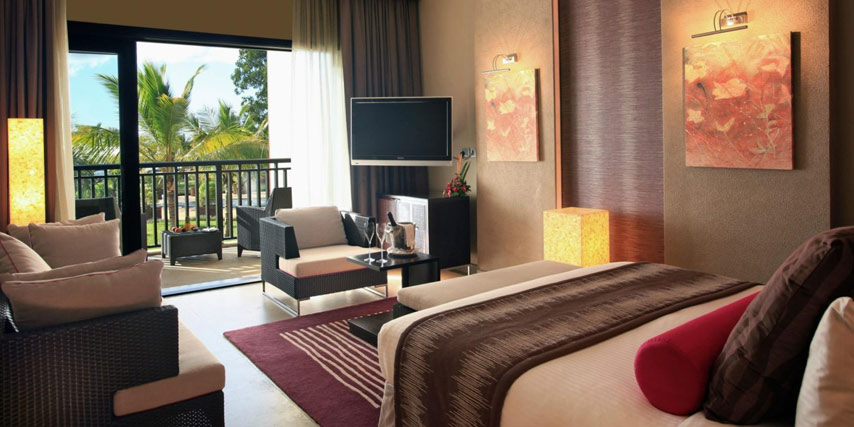 For younger guests, the Planet Trekkers can accommodate children between 4 to 12 years for fun thrilling activities in engaging environments under the skilled supervision of the qualified kids' club team. Programs include: positive learning experiences, games, arts and crafts, beach activities, local excursions, traditional Sega Dancing, marine life education sessions and Creole classes.
Adults who want to indulge in activities, the resort provides a vast array of activities and excursions. There is the boat house offering kayaks, pedal boats, water skiing, and more. The Dive Centre provides everything needed for exploring beneath the waves. Deep-sea fishing expeditions, sailing trips and glass-bottom boat rides are also available.
Hotel Key Highlights:
210 Rooms & Suites
5 Restaurants
2 Bars
2 Infinity Pools
Children's Pool
7 Treatment rooms
Additionally:
Family offer benefits:
Children dine for free with a paying adult
Full buffet breakfast for all at Senso International Buffet Restaurant or Segala à la carte Restaurant
Guest are invited to enjoy our complimentary water sports and activities such as Kayaking, Laser boats, and trips on our Glass Bottom Boat
Baby Sitting Service is available
cxd